« back to Movies
Between Us
Release Date: None
Genres: Comedy, Drama
Cast: Melissa George, Julia Stiles, Taye Diggs, David Harbour, Robert S. Martin III, Mara New, Aaron Webster, Malin Yhr, Christopher Swank, Michelle Peltz
Directors: Dan Mirvish
Official Site: http://betweenusmovie.com/
Distributor: Monterey Media
In this darkly comedic drama, two couples reunite over two incendiary evenings where anything can happen. Grace and Carlo are a newly married New York couple who visit their old friends Sharyl and Joel in their huge Midwestern home. Despite their wealth, the hosts are in a bitterly destructive marriage. A few years later, the couples reunite in New York, only to find tables turned.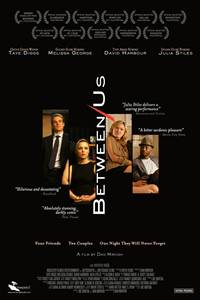 Show Times / Buy Tickets
There are no current showings for Between Us in this area.