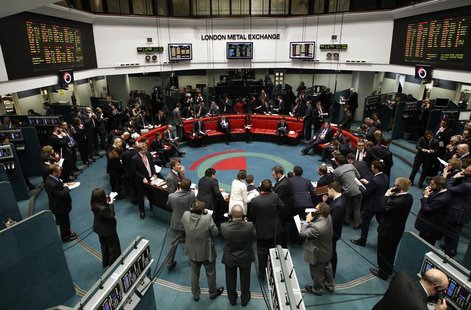 By Josephine Mason
NEW YORK (Reuters) - A British court ruling that has set back the London Metal Exchange's sweeping warehouse reforms has handed CME Group an unexpected windfall just weeks before it launches an audacious challenge to the world's biggest aluminum contract.
The High Court in London ruled on Thursday in favor of Russia's United Company Rusal, the world's biggest aluminum producer, which feared prices of its products would suffer from the LME's efforts to make owners of warehouses in the exchange's global network deliver metal more quickly to consumers.
It was a major setback for the LME just days before it was due to introduce measures it hoped would solve a deepening crisis over its aluminum contract, its biggest and most liquid.
While a blow for metal users, which have complained for years above logjams in the warehouse networks, the ruling cheered producers such as Alcoa Inc., whose shares rose more than 6 percent. It could also be a short-term boon to warehouse owners such as Goldman Sachs and Glencore.
But many say those gains will prove fleeting, as the LME will likely find some way to forge ahead with new rules.
Instead, the most lasting benefits may go to the CME, which is now in the process of convincing the 50 million-ton aluminum industry to upend three decades of LME pricing and switch to the CME's upstart contract.
It's not easy feat, with doubts whether there is sufficient interest, but Thursday's ruling will go a long way toward helping.
"There are still some question marks about liquidity, but if they wanted a perfect storm to attract some volume, then this provides it," said Nicholas Snowdon, a base metals analyst at Barclays Capital.
The CME declined to comment on Thursday.
UNCERTAINTY RETURNS
With just over a month before the CME is due to launch a contract that will challenge the LME's long-held dominance, the UK ruling has plunged the metal industry back into uncertainty. It is unclear whether the LME will appeal the ruling or restart what could be as much as a year-long review process.
Logjams in its vast network of warehouses and record high physical premiums have plagued the exchange's management for four years, sparking a U.S. regulatory probe and angering consumers, which say the higher prices are costing them billions of dollars each year.
Some market participants have questioned whether the Chicago-based exchange is ready for the launch, with many details still to be announced officially.
The CME's director of metals research, Young-Jin Chang, told a conference last week that three shapes of aluminum - ingot, sows and T-Bar - will be deliverable against the contract, according to participants at the conference.
But it is not clear which producers' metal will be deliverable. Three warehousing companies have applied to run storage in three U.S. cities for the new contract, and others are expected to follow.
The new contract has the approval of at least one large consumer of aluminum, MillerCoors, which uses the metal to make drinks cans and has criticized the LME's handling of the problem.
But some market participants have questioned if the exchange has enough in its arsenal to woo users from the LME's deeply entrenched benchmark.
Snowdon said business from consumers, traders and producers will be critical for the success of the new contract, since it is unlikely to attract much institutional interest.
There are very few examples of new commodity contracts dislodging a critical portion of liquidity from an established market.
"How can you launch a new contract when the full spec hasn't been published yet?" said one market source.
(Reporting by Josephine Mason; Editing by Steve Orlofsky)