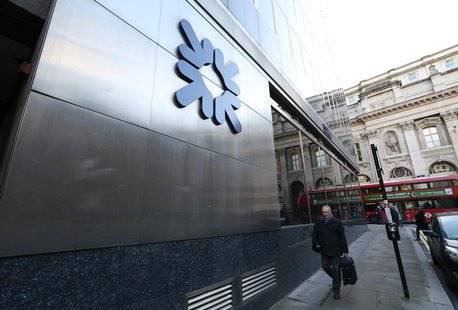 By Steve Slater
LONDON (Reuters) - Royal Bank of Scotland's separation and flotation of its U.S. business Citizens could be delayed after it was one of three foreign banks which had their plans for dealing with a financial crisis rejected by the U.S. Federal Reserve.
The U.S. central bank started scrutinizing foreign banks' emergency plans only this year but its tough verdict on RBS, HSBC and Santander - three of Europe's largest banks - as well as U.S. giant Citigroup throws down a gauntlet to the European Central Bank (ECB) as it readies its own bank stress tests this year.
It also serves as a warning shot for Deutsche Bank and Barclays as they will have to participate in future U.S. stress tests due to their large operations there.
RBS, HSBC and Santander said they would resubmit their plans for how to deal with rising losses under a stressed financial scenario.
Banks are not allowed to discuss what changes are needed, although the Fed said its objections on the three European banks were not to do with capital levels, but rather the process of how they plan for capital, such as their risk modeling.
"The bottom line is that these banks will have to improve internal controls," said Joseph Dickerson, analyst at Jefferies.
RBS said it was too early to say if it would delay the flotation of Citizens, which it wants to take place in the second half of this year with the sale of between 20 percent and 33 percent of the bank.
RBS, 81-percent owned by the British government after a bailout during the financial crisis, is under pressure from local regulators to drum up capital. An initial public offering (IPO) to sell part of Citizens, which has been valued at between $9 billion and $15 billion, is a major part of its capital-raising
Resubmitting plans can take several months. Last year the Fed did not approve revised capital plans for U.S. bank BB&T Corp until months after it had objected.
"Because it is hard to ascertain the magnitude of change in internal controls necessary to please the Fed, we therefore have limited visibility on how the IPO process of Citizens may be impacted by the rejection of the capital plan," Dickerson said.
Several banks are also casting an eye on Citizens, including Japan's Sumitomo Mitsui Financial Group <8316.T> and Mitsubishi UFJ Financial Group <8306.T> and Canada's TD Bank
, industry sources have said.

RBS has said it is planning for an IPO but was open to approaches from potential buyers.

The Fed's stance is further evidence of how regulators across the world have intensified scrutiny of multinational banks since the crisis, forcing more stringent liquidity and capital requirements on their local operations rather than relying on the banks' home regulator to do so.

This shift to "balkanization" of rules has increased capital and funding for banks.

HSBC has been unable to repatriate some of the excess capital it holds in the United States to its parent group in London since selling its U.S. credit card business three years ago.

Analysts said the prospect of that changing looked slim. "It will be harder to argue this case when regulators lock up capital in subsidiaries," said Arun Melmane, analyst at Canaccord.

NEW TO U.S. TESTS

Lenders in Europe face a range of stress tests this year with the ECB and the Bank of England, in conjunction with the pan-EU European Banking Authority, preparing to test the region's banks in an attempt to draw a line under the crisis.

It will be the ECB's first time to oversee the tests and the Frankfurt-based central bank will be under pressure to prove that it has flushed out any nasty surprises before it takes over as supervisor of the currency bloc's banks in November.

The Bank of England said on Thursday that the risk of a sharp rise in interest rates and a big fall in house prices would be a part of this year's stress tests.

The Fed said the three foreign banks were all new to its process, and HSBC and RBS had "significant deficiencies" in their planning, including "inadequate governance and weak internal controls around the processes".

The Fed's objection over Santander's plans for its U.S. arm Sovereign were more severe, saying it was due to "widespread and significant deficiencies" across its capital planning processes, including specific problems in governance, internal controls, risk management and its assumptions and analysis that support capital planning.

Last year, Citizens returned $1.2 billion of capital to its parent group. RBS said the Fed did not object to such a payout again this year.

"We clearly have more work to do to meet the Fed's standards, and we're fully committed to doing that," said Bruce Van Saun, the chairman and CEO of Citizens who used to be finance director at RBS.

(Additional reporting by Sarah White in Madrid. Editing by Carmel Crimmins and David Stamp)