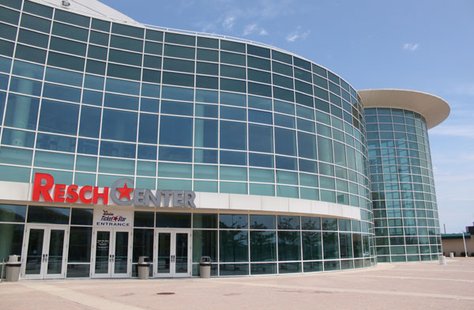 The WIAA Girls State High School Basketball tournament returns for the second straight year to the Resch Center. 20 teams across five divisions will be playing for state championships beginning Thursday afternoon. Last year, the Resch hosted for the first time and attendance took a big swing up from prior years in Madison. Officials are hoping to continue that trend with four Northeastern Wisconsin teams in the field.
Play begins Thursday afternoon at 1:35 PM in Division 5. The first semifinal features Wisconsin Rapids Assumption against Heritage Christian. That will be followed by Owen-Withee versus undefeated Barneveld. The Division 4 semifinals begin at 6:35 PM Thursday with defending champion Algoma taking on Fondulac St. Mary's Springs, making their first ever trip to state. Eau Claire Regis meets Cuba City in the final game of opening day.
It gets really busy Friday morning beginning at 9:05 AM as Oconto Falls makes it's state basketball tournament debut against Kettle Moraine Lutheran. Neillsville takes on Brodhead in the second Division 3 semifinal. The afternoon Division 2 session begins with defending champion Green Bay Notre Dame meeting Milwaukee Pius XI, followed by LaCrosse Central and DeForest. The Division 1 semifinals Friday night open with top ranked and unbeaten Kimberly against Oak Creek followed by Superior against Mukwonago.
Championship Saturday begins at 11:05 AM with the Division 5 title, followed by championship games in Divisions 4 and 3. The Division 2 title game is Saturday night at 6:35 PM followed by the Division 1 championship contest.