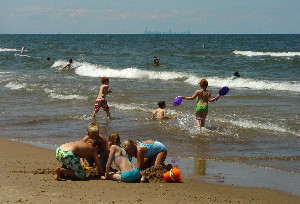 MILWAUKEE (WTAQ) - A national environmental group says Wisconsin has the 8th worst beaches among 30 states which border either oceans or the Great Lakes.
The Natural Resources Defense Council issued a report Wednesday, which rated state beaches according to the bacteria levels from water samples taken a year ago.
The report said 14 percent of Wisconsin's water samples failed to meet EPA standards for safe beach swimming waters.
Nationally, 10 percent of 3,500 beach samples exceeded new and more stringent EPA limits for E-coli bacteria.
The new maximum is 190 E-coli colony-forming units per 100-milliliters in a single sample. The old max was 235 units.
Great Lakes beaches have higher E-coli levels than their ocean counterparts, mainly because the Great Lakes are much smaller -- and they don't have the water circulation levels that oceans have.
(Story courtesy of Wheeler News Service)