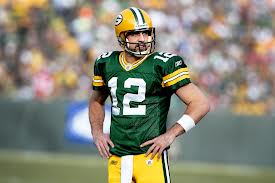 LA CROSSE, WI (WTAQ) - A sixth-grader near La Crosse has worn the same Aaron Rodgers jersey every day for almost three years.
David Pehl of Holmen is trying to wear his shirt longer than a Connecticut boy who wore a Brett Favre jersey for almost four-and-a-half years.
Pehl must wear his green-and-gold Rodgers shirt for 547 more days before he can break the mark set by David Witthopf from 2003-to-'08.
David said he just couldn't stop wearing the jersey given to him for Christmas. He's had it on for one-thousand-35 days.
David's father tells WKBT-TV in La Crosse that he put the idea into his son's head by mentioning the Connecticut youngster.
David's shirt is hand-washed every other day.
The green faded a while back, and the Rodgers name can barely be read.
Still, Pehl is determined to surpass Witthoff's record of 15-hundred-81 days -- which ended after the boy grew out of his Favre shirt, and it barely got down to his belt-line.