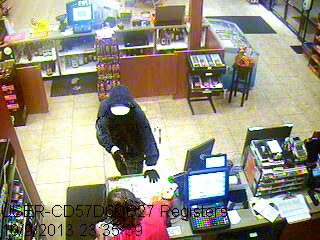 BELLEVUE, WI (WTAQ) - An armed robber held up the Bellevue Crossing Convenience Store at the corner of Manitowoc and Verlin Road late Wednesday night.
Brown County Sheriff's say the suspect came in with a white trash bag and a silver hand gun, walked directly towards the counter with the gun pointed at the clerk, and demanded he, "put the money in the bag."
Sheriff's Lt. Scott Semb says the suspect then told the clerk to get on the ground and he took off in an unknown direction.
Semb says the suspect was a white man around 5'10''. He was wearing a blue hooded sweatshirt that was pulled over his face and head, along with a white hat and sunglasses. He had blue sweatpants with a white stripe down the sides.
Witnesses remembered seeing a slow driving moped moving back and forth in the area prior to the robbery.