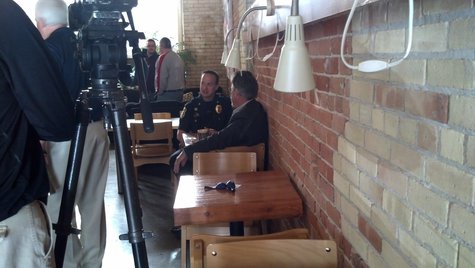 GREEN BAY, WI (WTAQ) - People in Green Bay got their chance to meet a police officer and talk over a cup of coffee.
The first-ever "Coffee with a Cop" event took place Tuesday at Kavarna Coffeehouse in downtown Green Bay.
After a nervous start, Officer Dave Schmitz says the turnout was great.
"Things are rolling, we're now at the point where I'm juggling officers to make sure everyone gets a chance to speak with an officer," says Schmitz. "It's just what I wanted."
Schmitz says the goal is to continue building a strong relationship with the public.
Angela Zdroik heard about the gathering, and felt it was important to get some of her questions answered.
"Everything from concealed carry to neighborhood watch to dog licensing, I have lots of questions," Zdroik says. "I thought it was a good way for the community and law enforcement to work together on the same page."
Schmitz says based on this successful start, he hopes to continue holding these events in other areas and at other times up to at least once a month.