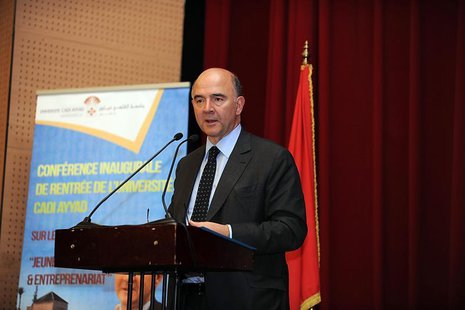 PARIS (Reuters) - The French government said on Wednesday it would sue retailer E.Leclerc before a Paris commercial court over what it described as unfair relations with its suppliers.
The privately owned retailer, the country's second-biggest behind Carrefour , has made it a priority to stay ahead in a price war between rivals seeking to lure customers in a sluggish economy.
In a statement, French Finance Minister Pierre Moscovici said E.Leclerc had written clauses into its contracts putting suppliers at a significant disadvantage.
Media spokesmen and an aide to the chief executive officer at E.Leclerc were not immediately available for comment.
The government had already filed a legal complaint against E.Leclerc over its relations with suppliers in 2011, but the claim was dismissed in September by the Paris commercial court.
Last week, Moscovici urged retailers not to pass on a rise in sales tax to shoppers, amid growing public frustration over tax hikes. The call got a frosty reception as retailers say that high labor costs and taxes are squeezing their profits.
(Reporting by Jean-Baptiste Vey and Pascale Denis; Editing by Leigh Thomas and Alison Williams)