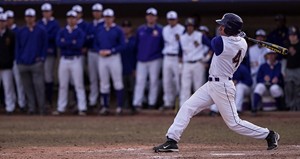 APPLETON, WI (WTAQ) - Playing from behind is apparently no big thing for the University of Wisconsin-Stevens Point baseball team.
They did it again Saturday, scoring three times in the top of the 8th to beat Kean 4-3 in the NCAA Division III World Series.
The Pointers are 9-1 in the post season and have rallied from behind in 5 of those wins.
They're an opportunistic team, using an error by the Kean pitcher, a wild pitch and three singles to score 3 times Saturday night.
A two-run single by shortstop Dan Douglas gave Stevens Point the lead.
Starter J.P. Feyereisen struggled with his control, but pitched around 7 walks to pick up his 7th win of the season. Sophomore Luke Watson got the save.
Stevens Point takes its 41-9 record into a 7 p.m. Sunday game at Fox Cities Stadium against top-rated Linfield.