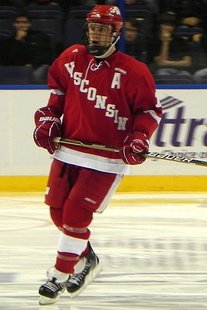 MANCHESTER, NH (WTAQ) - It took a super hot goalie to stop a hot team as the University of Massachusetts-Lowell whipped Wisconsin Friday night in the NCAA Northeast Regional semifinals.
When Wisconsin's Nic Kerdiles scored to cut the lead to 3-1, it ended the shutout streak for River Hawk goalie Connor Hellebuyck at 165 minutes, 20 seconds. That was all the offense the Badgers could muster in a 6-1 loss. And, that ended Wisconsin's late-season winning streak at six games in a row.
It was the first NCAA tournament game for the Badgers since they lost to Boston College in the national championship game 3 years ago.
Wisconsin finishes its season with a 22-13-7 record after winning just one of its first 10 games.
Badger goalie Joel Rumpel made 20 saves but got almost no offensive support.
After Wisconsin outshot Massachusetts 11-4 in the first period, the River Hawks dominated the rest of the way, earned a berth in the regional final against New Hampshire.