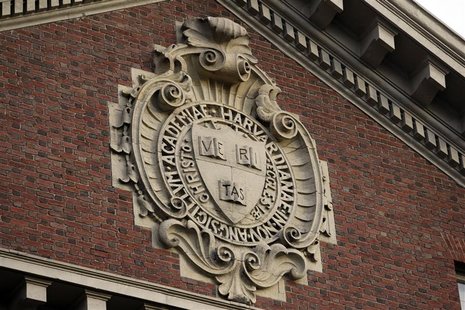 By Daniel Lovering
CAMBRIDGE, Massachusetts (Reuters) - Harvard University apologized on Monday for its handling of a secret search of staff email it conducted in an effort to find out how the news media got information about a cheating scandal.
Dozens of students were forced to withdraw from the Ivy League school after cheating on a final exam last year in the largest academic scandal to hit the nearly four-century-old school in recent memory.
After local media reported on the scandal, the university searched the email of 16 resident deans who sit on an administrative board handling the cheating case without warning them. Only one was told about the search afterward, according to The Boston Globe, which first reported news of the searches.
The university said on Monday that it had authorized "a very narrow, careful, and precise subject-line search" of the resident deans' administrative, but not personal, Harvard email accounts.
"No one's emails were opened and the contents of no one's emails were searched by human or machine," said Deans Michael Smith and Evelyn Hammonds, in a statement released on the school's Web site. (http://www.fas.harvard.edu/home/content/deans-communications)
They found that one resident dean had forwarded the message to two students. The resident dean confirmed sending them, through what the investigation found to be "an inadvertent error."
Harvard took no additional action against that resident dean, whose name was not disclosed.
Some faculty members reacted with dismay. Harry Lewis, a computer science professor and former dean, wrote on his blog that "this way of handling the situation seems to me — well, dishonorable."
Smith and Hammonds defended the investigation, saying that the emails that were leaked "threatened the privacy and due process afforded students."
But, they added, "We understand that others may see the situation differently, and we apologize if any resident deans feel our communication at the conclusion of the investigation was insufficient."
About 125 undergraduates were involved in the scandal, which came to light at the end of the spring semester after a professor noticed similarities on a take-home exam that showed students had worked together, even though they were instructed to work alone.
More than half the students who faced the school's Administrative Board had been suspended for a time, Smith said in an email last month. Roughly half the remaining students received disciplinary probation.
Suspensions depend on the student, but traditionally last two semesters and can last as long as four semesters.
The government class, Introduction to Congress, had 279 students enrolled, according to The Harvard Crimson, the school's student newspaper.
(Editing by Scott Malone, Cynthia Johnston and Leslie Gevirtz)