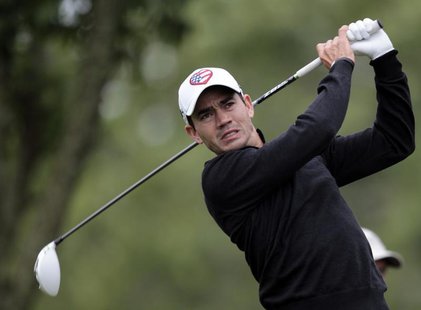 By Simon Evans
PALM BEACH GARDENS, Florida (Reuters) - When he burst on to the PGA Tour as a rookie in 2006, Colombian Camilo Villegas was billed as the future Latin American star of golf, a marketing dream and a potential major championship challenger.
But the 31-year-old is currently without a PGA Tour card after failing to finish in the top 125 in the money list last year and is relying on sponsor's exemptions to feature on tour.
On Thursday, however, taking full advantage of benign conditions at the PGA National course and producing a classy eagle on the final hole, Villegas grabbed a one-shot lead at a tournament he won two years ago.
That victory was the last of three wins for Villegas and instead of cementing his place in the elite, it was followed by a slump in form.
"I guess when you miss as many cuts and the results are the way they were last year, you have somehow got to be strong with the mind and keep grinding," Villegas told reporters.
"You know you belong out here, you know you're good enough, and you also understand that the game of golf is a game of ups and downs. You've just got to be strong on those downs and keep working hard," he said.
But for a player who exuded confidence and was never afraid to play to the galleries, stretching out across the green as he sought his sight line for putts, Villegas cut a sorry figure during some of his struggles last year.
"At times, it was tough. It was tough to enjoy it, at times," he said.
"This game is great when you're playing good, and when you're out here missing cut and missing cut, I don't care what people say, yes, we're blessed to have this job, but it's not that much fun (then)."
Villegas has been working with swing coach Darren May and says he has felt signs of improvement.
"We have been doing a lot of great work. Enjoying my practice, spending a lot of time out there and trying to get better. It's good," he said.
But don't expect Villegas to join the ranks of golfers who go deep into psychology or analysis of their swing. Though needing to address some details, the Colombian said he had kept his approach simple.
"I just played bad the last year and a half," he said.
"It's a little reality check, nothing wrong with that. It gives you a little bite to come back and be who you know you can be."
(Editing by Ian Ransom)