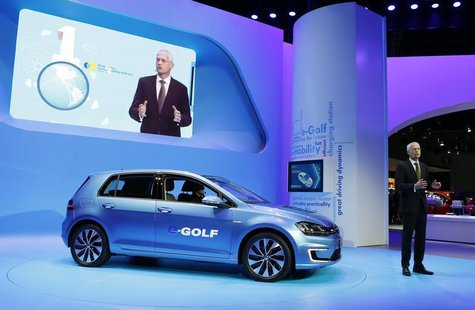 DETROIT (Reuters) - Volkswagen AG's U.S. Chief Executive Officer Jonathan Browning has left the company for personal reasons and is to be replaced by 51-year-old Michael Horn, the company announced from its Wolfsburg, Germany headquarters on Thursday.
The 54-year-old Browning, a former executive at General Motors Co and Ford Motor Co , had been with VW since 2010. Volkswagen said on Thursday that Browning will return to Britain, where he is from.
Horn, a German national, has been since 2009 the head of Volkswagen global after sales, which covers parts and service at VW dealerships. Horn's appointment becomes effective January 1.
Since 2010, Volkswagen has doubled its U.S. sales as it strives to become a larger player in the U.S. auto market. Until Japanese automakers overtook VW in the 1970s, Volkswagen was the top seller of imported cars in the United States.
But this year, the Volkswagen brand has seen its U.S. sales slip 5 percent. Its luxury brand Audi's sales are up 13 percent through November.
During Browning's tenure, VW opened a new plant in Chattanooga, Tennessee, where it makes the Passat sedan.
Volkswagen wants to have the Tennessee plant join the rest of its wholly-owned plants around the world that have a German-styled works council to represent the workers. Such a council would advise on work rules at the plant and include both blue- and white-collar workers.
In order to set up the German-styled labor group at Chattanooga, its workers must aligned with a U.S. labor union, and VW has been in talks with the United Auto Workers.
Browning had said often that if plant workers were to be represented by any union, a vote among workers must be held, a position that has not been publicly supported or dismissed by top VW executives in Germany.
(Reporting by Bernie Woodall; Editing by Gerald E. McCormick and Nick Zieminski)