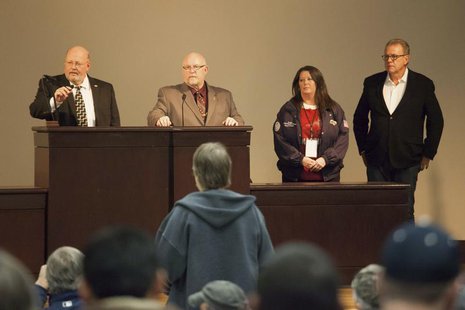 NEW YORK (Reuters) - Boeing Co and machinists union leaders met on Wednesday, their second consecutive day of meetings in an effort to bring Boeing's new jetliner program, the 777X, to Washington state, according to the union.
Boeing Commercial Airplanes Chief Executive Ray Conner and members of his staff were meeting with International Association of Machinists District 751 President Tom Wroblewski and the union's business representatives, said union spokesman Bryan Corliss. The meeting follows a first meeting on Tuesday.
Boeing did not immediately respond to requests for comment.
It was unclear whether the two sides would exchange proposals to locate the 777X work in the Puget Sound on Wednesday, Corliss said.
"The goal for today is to see what the two sides can do to secure the Puget Sound as the home for the 777X," he said.
"Our membership wants to build this airplane. We believe Boeing wants to build it here too."
(Reporting by Jonathan Kaminsky; Writing by Alwyn Scott; Editing by Gary Hill)