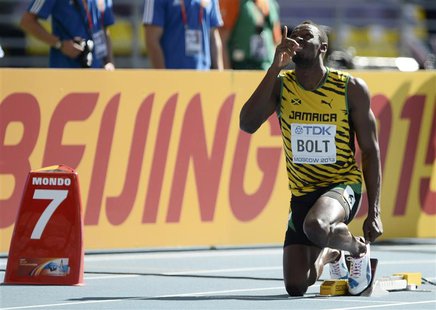 By Mitch Phillips
MOSCOW (Reuters) - Usain Bolt stretched, stifled a yawn and, almost apologetically, extracted his giant frame from his blocks before strolling through his heat as he began his bid for a third successive world 200 meters title on Friday.
Bolt, never a fan of morning action and slightly tentative after dropping a starting block on his foot earlier in the week, was in the last of seven first round heats and duly won it in 20.66 seconds without ever getting out of second gear.
Watched by another feeble crowd, the sport's biggest name did the minimum required to advance to the semi-finals later in the day, with the final scheduled for 1605 GMT (12:05 p.m. EDT) on Saturday.
"I'm not really a morning person so I'm just happy to get through," Bolt said after advancing as the 21st-fastest qualifier.
"My foot is feeling better. It was sore but we've been working on it for four days."
Bolt, who set the current world record of 19.19 in Berlin four years ago, is the fastest in the field this season with 19.73 in Paris six weeks ago.
American Tyson Gay would probably have been his main challenger, having clocked 19.74, but the 2007 champion misses the championships after a positive drugs test.
Bolt's Jamaican team mate Warren Weir, bronze medalist in last year's Olympics and the next-fastest in the field, also progressed comfortably, as did Nickel Ashmeade, fresh from his fifth place in the 100 meters final, and Jason Livermore as Jamaica bid to match their London Olympics podium sweep.
Yohan Blake, the silver medalist in London, is absent through injury while France's Christophe Lamaitre, world bronze medalist in 2011, also withdrew after suffering an injury racing the 100m earlier in the week.
Gay's absence opened the door for Wallace Spearmon, with two bronzes and a silver from previous world championships, but the American only just went through after taking it too easy for too long and finishing third in his heat.
South Africa's Anaso Jobodwana and British teenager Adam Gemili, with a personal best, shared the fastest time of the morning - 20.17.
"Maybe I didn't expect it this early but coming into the 200m I knew I was in shape and I just wanted to execute," said 19-year-old former Chelsea soccer trainee Gemili, who was frustrated not to make the 100m team.
"I looked across and thought someone else must have got it but there's more to come and I just want to hit it this afternoon."
(Editing by Patrick Johnston)