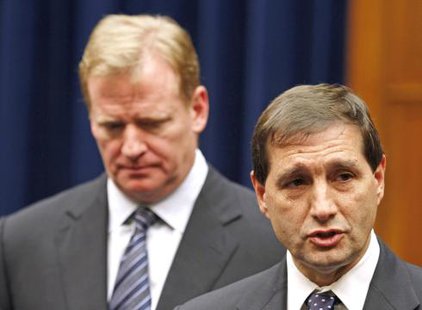 UNDATED (WSAU) - It's over. The regular NFL officials are coming back for Week 4, starting Thursday night.
NFL executive Greg Aiello tweeted: "Pleased to report that an agreement has been reached with the NFL Referees Association."The NFL and the referees' union reached the tentative contract agreement at midnight eastern time Thursday. That ends the lockout that began in June. This also means an end to replacement officials effective immediately.
Commissioner Roger Goodell said, "Our officials will be back on the field starting tomorrow night" for the Cleveland-Baltimore game. Goodell also said, "We appreciate the commitment of the NFLRA in working through the issues to reach this important agreement."
Goodell was at the bargaining table as the two sides wrapped up two consecutive marathon negotiation days with a tentative 8-year deal. This deal must be ratified by 51 percent of the union's 121 members. They plan to vote Friday. NFLRA President Scott Green said, "Our Board of Directors has unanimously approved taking this proposed CBA to the membership for a ratification vote. We are glad to be getting back on the field for this week's games."
Replacement officials worked the first three weeks, which caused frustration for fans, players, coaches, and owners. The Monday Night Football game with Green Bay losing to Seattle in a disputed final play forced the two sides to get serious about negotiations.
The union wanted improved salaries, retirement benefits and other logistical issues for the part-time officials. The NFL has proposed a pension freeze and a higher 401(k) match, and it wants to hire 21 more officials to improve the quality of officiating. The union fought that saying 21 more referees could lead to a loss of jobs and a reduction in compensation for current officials.
The NFL says its offers included annual pay increases that could earn an experienced official more than $200,000 annually by 2018. The NFLRA disputes that statistic.