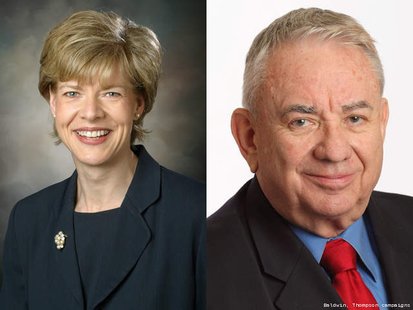 MILWAUKEE (WTAQ) - Republican Tommy Thompson's U.S. Senate campaign says it plans to recover from a recent dip in the polls with more TV ads and a higher profile on the campaign trail.
Some of Thompson's supporters are concerned, after he lost a 9 point lead over Democrat Tammy Baldwin in the Marquette Law School poll. The most recent poll has him trailing by 9.
House Democrat Baldwin has stepped up her TV advertising in recent weeks, touting herself as a champion of the middle class and slamming Thompson's ties to health care groups.
But instead of taking out ads that respond to those attacks, Thompson has been busy raising money after an intense GOP primary – and in the process.
Friday night, Thompson and Baldwin will stage the first of three Senate debates planned between now and Election Day.
Long-time Thompson supporter Mike Ellis, a state Senator from Neenah, said the former governor still has, "a residual of good will out there – and he's got to reinforce that."
Senate Republican Dale Schultz of Richland Center said Thompson should highlight his passion and personality.
Lisa Boothe of the Thompson says he's been out there, meeting with voters. She said the only place where Thompson has not been seen much is in the paid media – and that's been changing as of late.
But the Baldwin camp says they're leading because they've got the superior candidate. As spokesman John Kraus puts it, "What's working is laying out the choice for voters – which is what we've done."