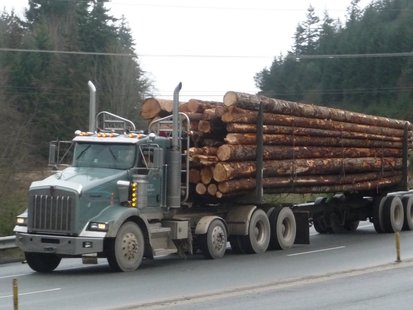 DULUTH, MN (WTAQ) - Drivers of logging trucks from northern Minnesota will gather in Duluth Thursday, as they protest new federal weight limits which they say will slow down deliveries into Wisconsin.
Over 50 members of the Associated Contract Loggers and Truckers plan a caravan down Duluth's main street. They'll then gather at the Port Authority for a rally.
Truckers say the new federal limits will force them to take longer and slower routes, thus holding up deliveries to places like a major log-loading spot in Superior – as well as paper mills like NewPage in Duluth.
The new federal rules ban loads of over 80,000 pounds on the Interstate system in Minnesota, including I-35 at Duluth-Superior. The truckers say they prefer vehicles with over 90,000 pounds – and they're seeking the same types of exemptions granted in other states like Vermont and Maine.
One Minnesota trucker sends 50 loads a week on Duluth's side streets, and he calls it a safety hazard.