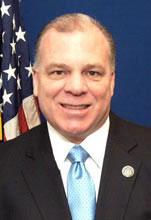 SALEM, NJ (WTAQ) - A politician in New Jersey is doing more than just complaining about the NFL's replacement officials.
State Senate President Steve Sweeney said he's introducing a bill to ban professional sporting events in the Garden State that use fill-in officials. He announced the measure Tuesday, after an apparent blown call on a Hail Mary pass gave the Seattle Seahawks a 14-to-12 win over the Green Bay Packers on Monday night.
Sweeney said the past weekend's games quote, "made a mockery of a great sport," and it "shined a very bright light on how important fully-trained and professional officiating is to player safety."
No other politician would go as far as banning replacement officials, but some have had plenty to say.
Wisconsin Governor Scott Walker, whose claim to fame is cutting off most public union bargaining rights, called for a return of the unionized NFL officials.
His critics mocked him for it, but Walker spokesman Cullen Werwie said it has quote, "nothing to do with labor and everything to do with a blown call."
Today, the NFL said the touchdown call was justified.The league said the officials should have called pass interference on Seattle receiver Golden Tate for pushing Green Bay's Sam Shields just before the catch. But the penalty was not reviewable, and the game result is final.
Packers' guard Josh Sitton refused to buy the league's explanation – and he said the NFL should come to Green Bay and apologize.