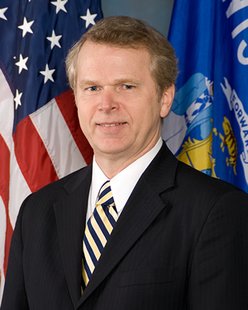 MADISON, WI (WTAQ) - The first person to head Wisconsin's new public-private job creation agency says he'll resign, to become the new head of a regional economic development group in Madison.
Paul Jadin was named Thursday as the new president of Thrive, which seeks to improve the economy in 8 Madison-area counties. He'll start his new job on November 1st, and will replace the retiring Jennifer Alexander.
A spokesman for the Wisconsin Economic Development Corporation said Governor Scott Walker would announce an interim replacement for Jadin Thursday afternoon – along with the formation of a search panel to find a new permanent leader.
Jadin is a former mayor and chamber of commerce executive in Green Bay. He was appointed in late 2010 as the secretary for the old state Commerce Department, which the Development Corporation replaced the following year.
In a statement, Jadin said he was proud of what's been done to, "rebuild Wisconsin's approach to economic development."
Jadin's resignation came two months after Walker made his former deputy chief of staff the agency's Number 2 official, amid a controversy over tax breaks offered to a firm if it won a state contract. The offer was later rescinded, and the bids for the contract were tossed out.
Governor Scott Walker released a statement Thursday:
"I would like to thank Paul for his service to our state and for the great job he has done helping transform the old Department of Commerce into the Wisconsin Economic Development Corporation," Walker said. "Under Paul's leadership, WEDC now has a strong foundation to build off of as it moves into the next phase of encouraging private sector job growth in Wisconsin."