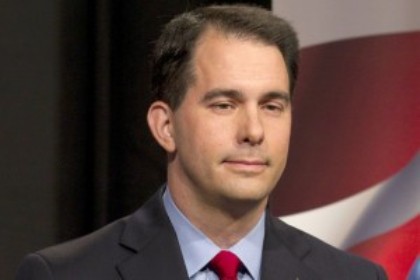 MADISON, WI (WTAQ) - Governor Scott Walker urged his supporters Thursday afternoon to sign an online petition in favor of keeping the law that virtually ends public union bargaining.
The request comes as Madison Judge Juan Colas is about to consider putting the law back in place, while the state appeals his ruling from last Friday to throw out the bargaining limits for public schools and local governments.
In an e-mail from Walker's campaign, communications director Tom Evenson said the governor's reforms have saved taxpayers, "over $1 billion and counting." The e-mail did not specify the reforms.
The judge kept in place the law's requirement that public workers pay for part of their health insurance and pensions.
The only thing Colas struck down in that area was the pension payments to the City of Milwaukee's plan, saying they violated home rule provisions.
Thursday night, the Dane County Board will consider a hastily-negotiated plan to extend full union contracts to county employee groups through 2015. That angered Whitewater Assembly Republican Steve Nass so much, that he called for the state to stop granting state funding requests for Dane County.
Madison Teachers' attorney Vince Powers criticizes the Republican Walker for attacking the judge instead of the merits of his decision – and he has asked Attorney General J.B. Van Hollen if he agrees with the governor.
Van Hollen refuses to say. But he said the judge's decision is flawed and he believes it will be overturned.