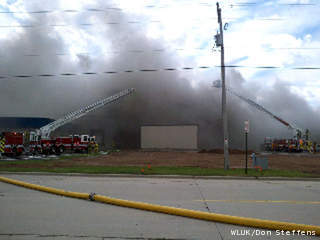 GREEN BAY, WI (WTAQ) - A west side Green Bay warehouse is considered a total loss following a fire Thursday.
Fire officials say the call came in at 11:04 a.m. to 2325 Hutson Road.
Lt. Nick Craig says thick black smoke was billowing out of the warehouse as crews arrived on the scene.
Craig says 5 people were working inside the building at the time and all got out safely. He says the fire was started by workers using a cutting torch.
Craig adds the building was recently purchase and was in the process of being converted. It is mostly empty space, but had some cars in it and office space.
The damage is estimated at more than $350,000.
Firefighters remain on scene and are keeping an eye on things and putting out any hot spots.