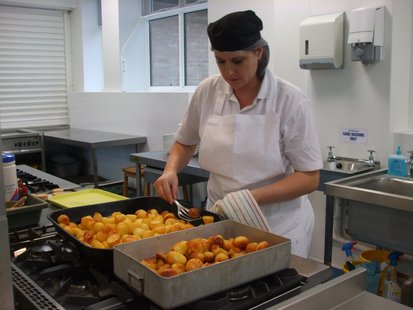 MUKWONAGO, WI (WTAQ) - One size does not fit all. That's what students in Mukwonago are saying about the nation's new dietary standards for school lunches.
Monday, 70 percent of the 830 Mukwonago High School students boycotted what their cafeteria was serving – and sales of middle school lunches were also down by half.
The USDA adopted the new school lunch guidelines as part of First Lady Michelle Obama's Healthy Hunger-Free Kids Act.
But Mukwonago football linebacker Nick Blohm says the new rules don't make him hunger-free. He figures that he burns 3,000 calories between his early morning weight lifting and the end of practice in the early evening.
But the school won't even serve him a-third of that – 850 calories is the max.
The new guidelines call for only low-fat or non-fat milk – more whole grains, fruits, and vegetables – and fewer items with high salt and sugar contents. Also, the portions are smaller – which seems to rankle students the most.
Mukwonago senior Joey Bougneit told the Milwaukee Journal Sentinel, "A freshman girl who weighs 100 pounds can eat this lunch and feel completely full."
He also noted that the price is a dime higher than last year. That's because the USDA wants schools to charge nearly the amount which the agency reimburses schools for free lunches for the poor.
The school district's food supervisor, Pam Harris, said she's all in favor of fighting childhood obesity – but she said the changes are too abrupt, and they do nothing to help overweight kids. Harris said what happens at home is, "a major piece of that puzzle."