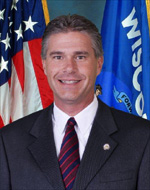 MADISON, WI (WTAQ) - Wisconsin Attorney General J.B. Van Hollen says he will ask the court to allow him to continue enforcement of Act 10 until an appeal can be argued.
The state is already promising to appeal Friday's ruling that aside the law which effectively ends collective bargaining for most public employees.
Dane County Circuit Judge Juan Colas overturned almost all of the law, calling it unconstitutional and null and void.
It is the defining issue of Governor Scott Walker's time in office, and he called Judge Colas a "liberal activist judge."
Meanwhile, the appeal by the Republican governor is likely to end up on the docket of the conservative-dominated state Supreme Court.