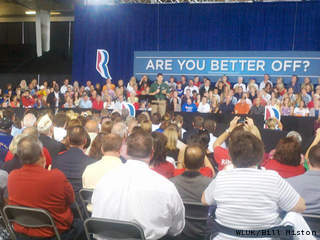 ASHWAUBENON, WI (WTAQ) - President Obama has put the U.S. "on the wrong track."
Those were the words from Republican vice presidential nominee and Wisconsin Congressman from Paul Ryan during a town hall-style campaign visit to the Cornerstone Community Ice Center in Ashwaubenon.
About 1,500 people attended the event, which began with Ryan asking for a moment of silence in the wake of the attack in Libya that killed U.S. ambassador Christopher Stevens and three other Americans.
"This is outrageous," said Ryan. "Our hearts are heavy, our thoughts and prayers are with their families."
The Janesville native then went back to a heavy theme during this campaign, jobs and the economy. Ryan said President Obama had plenty of chances to fix the problems and curb soaring deficits.
In contrast, Ryan insisted that he and GOP presidential nominee Mitt Romney will tackle tough issues, resulting in the U.S. dodging a bullet on a looming debt crisis.
"The Romney-Ryan five-point plan for a stronger middle class is very specific," Ryan said. "What's central among that is to get this deficit under control because it's hurting you right now."
Other issues covered during the nearly one-hour visit included foreign policy, providing more government transparency and working with the federal reserve to stop mismanaging the American dollar.