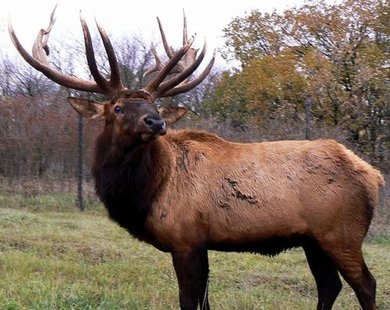 MADISON (WSAU) Wisconsin's D-N-R has told the Ojibwe band of Indians that it has "deep concern" about a tribal plan to kill an elk for ceremonial purposes. The Great Lakes Indian Fish-and-Wildlife Commission recently approved a permit to kill an elk – similar to the way Indians kill deer and bear on non-tribal lands for ceremonial reasons. But there are well-established hunting seasons for deer-and-bear, while the state's still trying to establish an elk herd – and it has not approved a hunt for them yet.
In a letter to the Indian commission and the Voigt Inter-Tribal Task Force, D-N-R deputy secretary Matt Moroney raised public safety and biology issues. And he was concerned that his agency was not given a chance to provide input.
Indians have treaty rights to take fish-and-game off their reservations, but the D-N-R still manages those resources. Agency lands' administrator Kurt Thiede said the tribes believe they have full legal standing to kill an elk – but he's not so sure, because a hunt has never been set up for those animals. There's been talk of such a season, as the state considers importing more elk from Kentucky and setting up two centers for about 400 elk in the areas of Ashland and Jackson counties.
The state has about 185 elk now, and the D-N-R's long-term goal is to have 10 times that many.