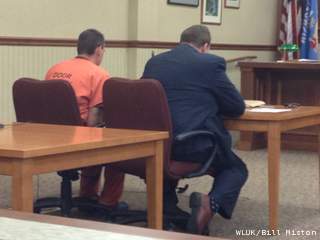 STURGEON BAY, WI (WTAQ) - A man has been ordered to stand trial for allegedly killing a woman who rejected his romantic advances during a visit to Door County last month.
35-year-old Brian Cooper of Plainfield Illinois had a preliminary hearing Tuesday in Sturgeon Bay, on two homicide charges and a count of third-degree sexual assault.
Prosecutors said Cooper took 22-year-old Alisha Bromfield to a wedding, with the idea of striking up some romance himself. But when she said no, and authorities say Cooper choked the woman and then sexually assaulted her, killing both Bromfield and her unborn child.
Investigators said Cooper tried killing himself before he called police to turn himself in.
Officials said Cooper was not the baby's father.
He's scheduled to enter pleas to his three charges a week from Thursday.