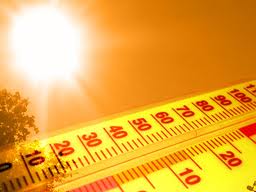 MILWAUKEE, WI (WTAQ) - It was a hot summer in most of the U.S., but a new report says Wisconsin led the way with its scorchers.
Climate Central favors solutions to fight global warming. It said communities in the Badger State broke 1,345 records this summer – four times the number expected.
On average, the new records were almost 4.5 degrees warmer than the old ones. And Wisconsin had 41 times more record highs than record lows during the season.
This should be no surprise, since the National Weather Service said the three-month period ending August 31st was the hottest on record in Milwaukee.
Climate Central said Texas had the largest number of record-high temperatures, but Wisconsin was Number-One in most other categories.
Other states in the group's overall Top-10 were Iowa, Missouri, Indiana, Minnesota, North Dakota, Illinois, Ohio, Colorado, and Arkansas.
On Monday, most of Wisconsin is basking in 70-degree weather. But above-normal readings are expected the next couple of days, with highs in the 80's expected through Wednesday.