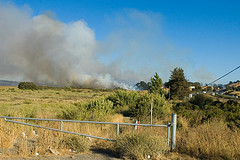 LA CROSSE, WI (WTAQ) - Dry weather and gusty winds are creating a risk of wildfires in far western and northwest Wisconsin the next couple of days.
The situation is not as bad as in far western Minnesota, where red flag warnings have been posted due to expected gusts up to 40 miles an hour. But the Wisconsin DNR says a dozen western Wisconsin counties have high fire-risks Monday.
They are La Crosse, Monroe, Trempealeau, Jackson, Buffalo, Pepin, Pierce, Dunn, St. Croix, Polk, Burnett, and Washburn counties.
Fire dangers in the rest of Wisconsin are low to moderate. But the National Weather Service says gusty south winds and low humidities could also create wildfire risks between Superior and Bayfield – as well as far western Wisconsin as far south as La Crosse.
There's no mention of rain in the statewide forecast at least until Wednesday, when a chance of showers will exist through Friday.
The warmest days of the week will be Tuesday and Wednesday, when most of Wisconsin will be in the 80's. A cool off is expected on Thursday, with highs in the 60's expected statewide.