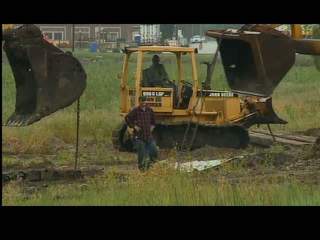 PESHTIGO, WI (WTAQ) - Crews have kicked-off a major dredging project in Peshtigo Friday.
The project, located on the city's west side, aims to remove almost 30,000 cubic feet of sediment from the Peshtigo River.
The city is paying for the project with its own money, and that is causing some controversy. Crews are slopping through the damp dirt, clearing the way for dredging operations to begin.
The Peshtigo River has been drawn down to accommodate construction on the business Highway 41 bridge and the nearby dam.
The mayor says this part of the river needs attention.
"We're going down seven feet, so we get into the rocks, and all this sludge and stuff that have been moved through the years will be cleaned out. And maybe the weeds won't grow in that part of the area," Mayor Al Krizenesky told FOX 11.
The city applied for a federal grant to cover the dredging, but the mayor says last month the application was denied. So the city will take $200,000 out of its general fund to cover the cost.
But not everyone agrees with the move.
City Alderman Fred Meintz voted against the dredging project.
"Enough is enough. You can't keep spending the money like that," said Meintz. "When we have far more urgent needs with our replacing, upgrading, our street equipment, our garbage trucks, our street sweeper, you name it."
The mayor says the dredging will restore the beach area and boost tourism. The project needs to be completed in about a week. That's when the drawdown of river ends.
The mayor says the city will apply for federal grants next year. He says any future dredging will have to be done when the river is at normal levels.