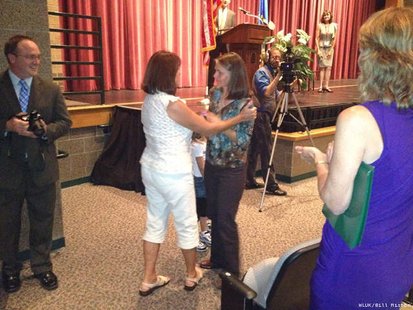 OCONTO FALLS, WI (WTAQ) - An educator in Oconto Falls is one of Wisconsin's Teachers of the Year.
Science teacher Jo Miller was presented the award during a surprise ceremony at Oconto Falls High School by Wisconsin Department of Public Instruction Superintendent Tony Evers.
"I am humbled by the award," says Miller. "I think that there are many other people that are deserving of the award, so it makes me feel a bit humbled."
In 2007, Miller started the Oconto Falls High School Science, Technology, Engineering, and Mathematics (STEM) Symposium that involves a public science show.
Another popular project is having her Advanced Placement biology students write biology-themed children's books. Students develop their own storylines and use original artwork. When finished, the books are shared with elementary school students.
"I am confident that every student is able to move through intellectual awakening, make decisions, and exceed their prior potential," Miller says. "By creating a positive classroom environment that invites investigation, discovery, and curiosity, students can open their minds to a world of unforseen knowledge."
Her award follows Linda Bergh and Nancy Terrian winning the same award as a special services teacher and elementary school teacher, respectively. The DPI says it will present the fourth and final award Friday.
The Herb Kohl Educational Foundation provides a $3,000 grant to each of the Teachers of the Year. One of the four named Wisconsin teachers will be chosen to represent the state at the 2012 National Teachers of the Year Award.