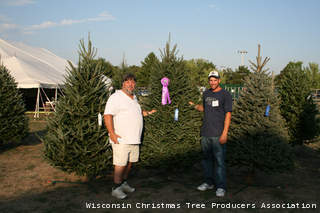 OCONTO, WI (WTAQ) - An Oconto Christmas tree farm has received a major award.
The Wisconsin Christmas Tree Producers Association has selected a balsam fir from Whispering Pines Tree Farm as the Grand Champion Wisconsin Christmas tree.
Members of the association could enter one tree in any or all of the contest's five classes: balsam fir, Fraser fir, any spruce, pine or other fir. Whispering Pines also won first place in spruce and third in Fraser fir.
Farm owner Dave Vander Velden will later present a tree to Governor Scott Walker in December.
Whispering Pines is now also eligible to enter the National Christmas Tree Association's contest. The winner of the national contest has the honor of presenting a tree to the First Lady at the White House.