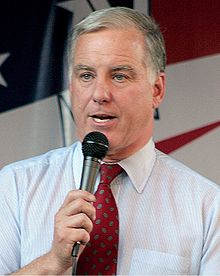 CHARLOTTE (WTAQ) - Former White House candidate Howard Dean lambasted Republicans Wednesday morning at a breakfast for Wisconsin's Democratic convention delegates.
Dean is a former Vermont governor and Democratic National Committee chairman who ran for president in 2004. He dropped out of the race after he finished last in the Wisconsin primary.
Dean criticized GOP White House hopeful Mitt Romney for taking advantage of the tax laws in ways that average Americans could not. But Dean saved his harshest criticism for Republican Governor Scott Walker, saying he "hijacked" what Dean called an "important, proud, progressive" state with the law that ended most public union bargaining.
Dean said Walker, "thought he could push around a whole lot of ordinary people who were making their living making Wisconsin a great state." And Dean said, "This country belongs to ordinary Americans. Ordinary people built America."
The president's deputy campaign manager, Stephanie Cutter, told the Wisconsin delegates that the nation is indeed better off after almost four years of the Obama presidency.
U.S. Agriculture Secretary Tom Vilsack slammed Janesville congressman and GOP vice presidential candidate Paul Ryan for holding up approval of the proposed five-year Farm Bill.