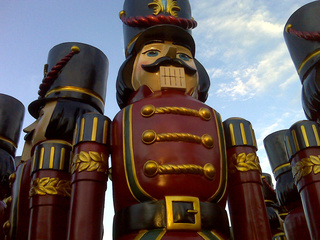 OSHKOSH, WI (WTAQ) - Some life-sized nutcrackers will be on display one last time before being auctioned off this weekend in Oshkosh.
The statues from the Nutcrackers on the Town program have been part of the community since the 2010 holiday season.
The following spring, the statues were sent to local artists to put unique touches on each one. Themes ranges from extraterrestrial to patriotic to floral decorations. The individual creations were then unveiled during last year's holiday season.
Organizers say the 48 statues will go on display Friday in Opera House Square.
From noon until 1 p.m. Saturday, artists will join their creations and will be available to answer questions, sign autographs and pose for photos. During the afternoon, the statues will be moved to the stage of the Grand Opera House for the auction, which begins at 7 p.m. 40 nutcrackers will be sold during the live auction, with more to be sold later online.
Tickets to the auction are $10 and can be purchased by calling (920) 424-2350 or at the Grand Opera House website . Absentee bidding can be arranged by calling (920) 235-6903 ext. 22.
Proceeds from the auction will be divided among the Paine Art Center and Gardens, Grand Opera House and Arts Fund of the Oshkosh Area Community Foundation.