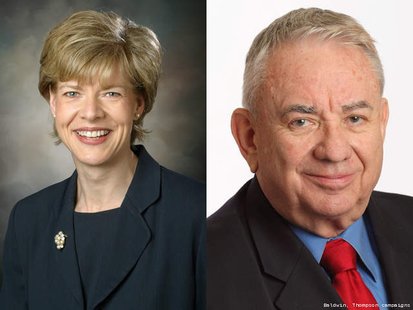 WAUSAU, WI (WTAQ) - The two main candidates in an extremely tight U.S. Senate race in Wisconsin will debate each other Thursday night.
Republican Tommy Thompson regained his earlier lead over Democrat Tammy Baldwin by just one percentage point, 46-45, in the latest Marquette Law School poll released Wednesday.
The race is considered a dead heat, because the results are well within the poll's 3.4 percent margin of error.
Thursday night's debate begins at seven o'clock from the UW Marathon County campus in Wausau. You can hear it live on 97.5/1360 News Talk WTAQ.
Andy Moore of Wisconsin Public Television says the format will require Thompson and Baldwin to dig deeper into issues, beyond their normal campaign speeches.
Wednesday, New Jersey Governor Chris Christie campaigned for Thompson in Green Bay. And last night in Waukesha, 2008 GOP White House candidate John McCain and his fellow U.S. Senator Lindsey Graham were at reception for Thompson.
Baldwin plans to appear with former President Bill Clinton Friday night in Green Bay. She'll also be with First Lady Michelle Obama as she campaigns in Racine and Wausau during the day Friday.
Baldwin has the financial edge, with $3.5 million in her campaign fund at the start of October compared to $2 million for Thompson.
Outside groups are spending millions more on both sides. Karl Rove's GOP group has spent $5 million on the Wisconsin Senate race in the last two months – and it unveiled a third major ad campaign Wednesday.