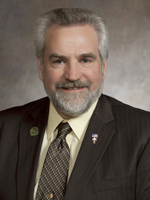 RICE LAKE, WI (WTAQ) - The Barron County district attorney is defending the seriousness of a high school sex case that got a state legislator in trouble.
Assembly Republican Roger Rivard of Rice Lake was commenting on Dennis Veldman's case last winter, when Rivard said his father told him "some girls rape easy." It meant that some cases of consensual sex are later claimed to be rape.
But Barron County DA Angela Beranek issued a statement Monday insisting there was no consent among the high school students in the case that Rivard referred to. She charged the 17-year-old Veldman last November with the child sex assault of a 14-year-old girl.
The DA said the girl complied because she was scared – and afterward, he told the victim not to tell anyone. The DA said she struck a plea deal with Veldman because it achieved the state's goals, and the victim did not have to go through a trial.
But she said Veldman had a probation revoked later, when he was charged with abuse for breaking the nose of a 13-year-old boy. Veldman has pleaded not guilty, and the case is still pending.
DA Beranek said a number of students claimed the sex was consensual when Veldman was first charged – but she said they didn't know all the facts at the time. Beranek also said comments like Rivard's make it less likely for sexual assault victims to report their cases to authorities, thinking nobody will believe them.
Beranek also said false rape claims are extremely rare – and she only had one such case in her 10 years as Barron County's DA.