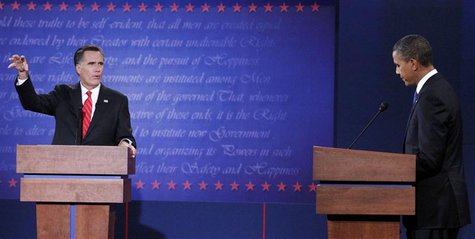 DENVER, CO (Metro Source) - The first of three presidential debates is in the books.
President Obama and Republican challenger Mitt Romney sparred over the economy, taxes and healthcare during their 90 minute debate in Denver.
An aggressive Romney vowed to repeal and replace the landmark 2010 healthcare reform law, saying it is hurting job creation. Obama noted that the law was based on healthcare legislation Romney signed when he was governor of Massachusetts.
The President cited steady economic progress after the deep recession. Obama accused Romney of seeking to "double down on top-down" Republican economic policies, which he also called "trickle-down."
Obama said such policies prompted the recession. Citing his business background, Romney rejected the "trickle-down" claim and said he knows "what it takes" to promote more job creation. Romney then accused Obama of promoting "trickle-down government."
The former Massachusetts governor said the nation needs to take a different direction on the economy, including removing burdensome regulations on small businesses. Romney vowed to "repeal and replace" the 2010 Wall Street reform bill that Obama signed into law.
The President defended it, calling it the toughest financial reform law since the Great Depression.
Obama said Romney has proposed a $5 trillion tax cut with no way to pay for it, a tax cut that would primarily benefit the wealthy. Romney rejected the assertion, saying he is "not looking to cut massive taxes."
Romney said he will not promote a tax cut which would add to the deficit. He also vowed to lower taxes on middle income families.
Romney accused Obama of letting soaring deficits get out of control, with no plan to reel them in. The President said he has repeatedly pushed Congress for a balanced approach to economic growth and deficit reduction, including ending Bush-era tax cuts for the wealthy.
The two also sparred over Medicare, with Obama accusing Romney of aiming to turn the popular entitlement program into a voucher program.