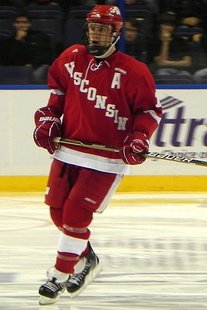 MINNEAPOLIS (WTAQ) - Two Minnesota scores in the third period gave the Gophers a 3-1 victory over the Wisconsin men's hockey team Saturday night.
The Badgers record fell to 1-5-2, including 1-3-2 in the WCHA.
Wisconsin scored first at 16:24 in the first period on a goal by Ryan Little.
The Badgers were 5-for-5 on the penalty kill and Little's score was a short-handed goal. Minnesota tied the scored midway through the second period, then put it away with 2 scores in the final period.
Joel Rumple stopped 25 of 27 shots on goal. The final Gopher tally came on an empty net.