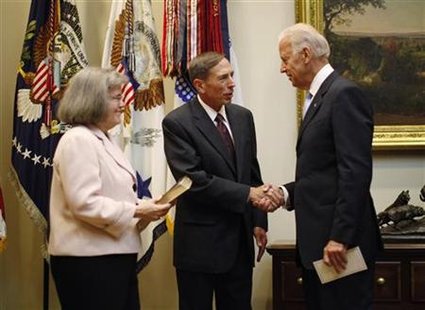 WASHINGTON D.C. (Metro Source) - CIA Director David Petraeus is resigning from his post due to an extramarital affair.
In a statement, President Obama praised Petraeus' "extraordinary service to the U.S. for decades." Obama said Petraeus has helped make the U.S. safer and stronger.
Deputy CIA Director Michael Morrell will serve indefinitely as acting director.
Petraeus' wife Holly is very involved in efforts to help veterans and their families. In his statement, President Obama said his "thoughts and prayers are with Dave and Holly Petraeus."
Obama did not refer to the reason for the resignation.
His resignation letter says he went to the White House Thursday and asked the President to be allowed to resign for personal reasons. He adds, "after being married for over 37 years, I showed extremely poor judgment by engaging in an extramarital affair. Such behavior is unacceptable, both as a husband and as the leader of an organization such as ours."
Petraeus is a four-star general who has served nearly 40 years in the U.S. Army. He became head of the CIA in September of 2011. Prior to that Petraeus served as commander of NATO forces and U.S. forces in the Afghanistan war. From 2008 to 2010 he was commander of U.S. Central Command in the Middle East. He also oversaw coalition forces in the Iraq war in 2007 and 2008.