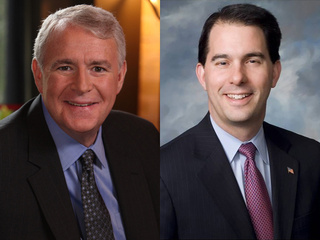 MADISON, WI (WTAQ) - Advocacy groups asked the two candidates for governor Thursday to promise that they'll make Wisconsin's campaign funding process more open.
They also asked the Legislature to address a number of campaign reforms in a special session soon after next Tuesday's recall elections.
The Wisconsin Democracy Campaign said the Scott Walker and Tom Barrett camps – and numerous outside groups – have spent an estimated $62 million on the Walker recall contest. That shatters the previous spending record of $37 million in the 2010 governor's race.
Republican Scott Walker used an unlimited fundraising provision for recall targets to bring in a record $31 million since the start of last year, most of it from out of state conservatives.
The Democracy Campaign and the Wisconsin Public Interest Research Group are among those asking lawmakers to change the provision for unlimited fundraising for recalls. They also want more open disclosure laws on political spending by outside groups.
The Democracy Campaign estimated that $21 million have been spent by special interest groups on the Walker race.
To make it easier to track that money, the watchdog groups want to force media outlets to post records online for all their election advertising. And they want to make corporations get permission from their stockholders before spending money on candidates and issue ads.
Mike McCabe of the Democracy Campaign said he was not optimistic that changes would be made now – but he believes that a, "breaking point" on campaign money is about to hit.