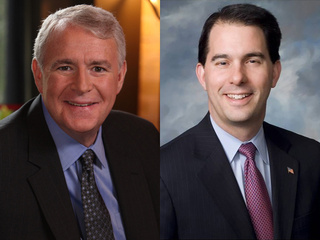 WAUKESHA, WI (WTAQ) - After a light Memorial Day schedule, the candidates in the governor's recall election are going full tilt again with just one week to go until Election Day.
Incumbent Scott Walker made a campaign visit Tuesday morning to Husco International in Waukesha. And then he headed to an official governor's visit in Whitehall in the afternoon – where he was planning to attend a ground-breaking and announce new jobs for Ashley Furniture.
Meanwhile, Walker's Democratic opponent Tom Barrett had campaign stops planned with former U.S. Senator Russ Feingold in Baraboo, Wisconsin Rapids, Marshfield, and Green Bay.
Also Tuesday, the Walker and Barrett campaigns must file their latest finance reports showing how much they raised and spent from April 21st through last Monday.