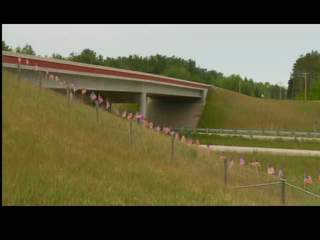 PESHTIGO, WI (WTAQ) - A bridge in Peshtigo has been dedicated nearly three years after Private First Class Steven Drees died in the line of duty.
The 19-year-old Drees was killed in Afghanistan in 2009 after being deployed for just a few weeks.
Drees' family now has a visual reminder of his ultimate sacrifice with a bridge stretching across Highway 41 in Peshtigo.
"You can't say it in words. You can't describe it. It's an inside feeling," Dawn Bayer, Drees' mother, tells FOX 11.
Bayer thanked everyone on behalf of her son before the unveiling of the plaque.
"If Steven were here today, he would thank you all for this honor. He would have liked to share this bridge with all the other soldiers who did not make it home from past wars. He would also want every bridge in every town to be named after someone who served their country," she told the gathered crowd of about two dozen.
Community members petitioned local legislators to have the bridge at the intersection of Hale Road and Highway 41 dedicated in honor of Drees.
State Senator Dave Hansen (D-Green Bay) and State Representative John Nygren (R-Marinette) sponsored the bill. They both attended Saturday's dedication.
Meantime, Drees' family says his legacy already carries on in the foundation they've started.
The Steven Thomas Drees Foundation has sent more than 7,000 care packages to soldiers overseas.
"If someone calls and says, 'I need this,' it's out the next day," said Bayer.
Saturday, May 26, 2012 would have been Steven Drees' 22nd birthday. His family says it's added significance to Memorial Day weekend, which has already taken on a very deep meaning.