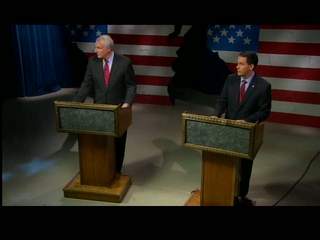 MILWAUKEE (WTAQ) - Wisconsin Governor Scott Walker says his opponent in the recall election keeps bringing up the ongoing secret criminal probe because Tom Barrett wants to draw the attention away from his own record.
During Friday night's recall election debate Barrett called again on Walker to release e-mails connected to the case and reveal who is funding the criminal defense fund the governor has established.
Walker said he has shown high levels of integrity his whole life and he will continue in that manner. He repeated that he has been told by investigators he is not the focus of the case.
The debate also addressed the candidates views on the changes were made to collective bargaining for the state's public employees.
"Looking back without a doubt I'd change how we did things," said Walker. "I think in the end, the results, and people say this all over the state, they like the results, they just wish we done it differently."
"You decided to use a budget crisis to try to divide and conquer this state," said Barrett. "That's what happened. That's what led to all of this and you succeeded."
The second scheduled debate will take place Thursday night.