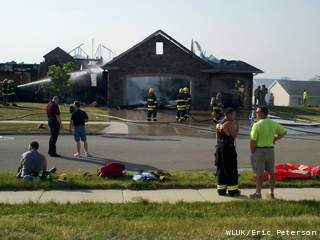 COMBINED LOCKS, WI (WTAQ) - A Combined Locks home is a total loss after a blaze Thursday.
Officials say it happened just before 5 p.m. at 534 Biese Street.
Authorities say the owner wasn't home at the time of the fire, but WTAQ has learned a dog and cat died in the fire.
Combined Locks Police say the wind made it difficult to fight the blaze. It also caused some burning debris to blow and damage nearby homes.
Investigators have not yet determined a cause for the fire.