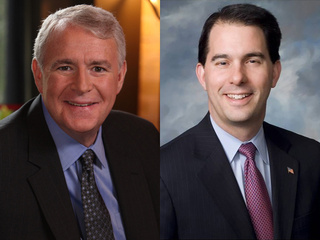 MILWAUKEE (WTAQ) - Governor Scott Walker will have a debate Friday night with the Democrat who's trying to recall him.
The Republican governor and Milwaukee Mayor Tom Barrett will hash out the issues in a statewide televised debate which begins at 8 p.m. You can catch the debate live on 97.5/1360 News Talk WTAQ.
The Wisconsin Broadcasters Association is sponsoring Friday night's forum.
It's first of two debates planned between Walker and Barrett. The final one will be next Thursday night. Both will originate from Milwaukee.
Recent polls give Walker a slight lead. But with relatively few undecided voters, both parties say the outcome will be determined on how many of their voters each party can get to the polls.
That process began this week, when early absentee voting began at local government clerks' offices.