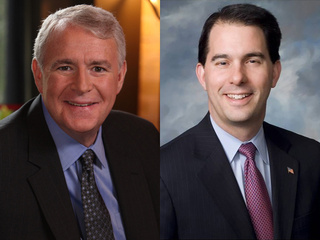 MADISON, Wis. (WSAU) – Governor Scott Walker has agreed to two televised debates with Milwaukee Mayor Tom Barrett before a historic recall next month.
The two will face each other Friday May 25th in a debate hosted by the Wisconsin Broadcasters Association. They will also square off Thursday May 31st in a debate hosted by Upfront host Mike Gousha, the Marquette University Law School and Wispolitics.com.
The debates will offer both candidates an opportunity to speak about their records on jobs among other issues.
Walker "looks forward to the robust debates and contrasting his record of success that has laid the foundation for a successful future against the failed policies of Milwaukee Mayor Tom Barrett that would take the state backward," Walker campaign spokeswoman Ciara Matthews said.
"Scott Walker loves to launch misleading attacks on jobs, so let's meet face-to-face and compare our records and our visions on jobs," Barrett said.
Barrett had challenged Walker to four debates.