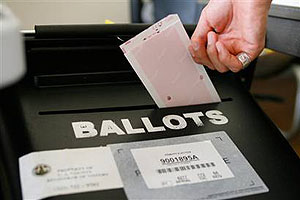 GREEN BAY, WI (WTAQ) - The polls are open in Wisconsin – and voters are choosing nominees for only the third gubernatorial recall election in the nation's history.
Four Democrats are vying for the right to face first-term Republican Scott Walker in the general election on June 5th.
Milwaukee Mayor Tom Barrett and former Dane County Executive Kathleen Falk are the front-runners. Democrats and other critics petitioned for the recall vote mainly because Walker and GOP lawmakers rammed through a law last spring which virtually ended collective bargaining by most state and local public employee unions.
It has made Walker a conservative hero around the country, where he has raised $25 million in anticipation of a bitter campaign. But in recent weeks, Democrats have gone away from the union issue – and they're focusing on jobs instead.
The Democrats have hammered away at a federal report which said Wisconsin lost almost 24,000 jobs in the year ending March 31st. Walker and his supporters counter that the state's unemployment rate has dropped to its lowest level since before the recession began in earnest in 2008.
Democrats are also choosing nominees Tuesday for lieutenant governor and 4 state Senate seats. All polls close at 8 p.m..