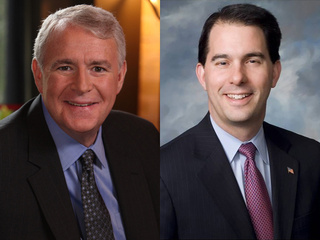 MILWAUKEE (WTAQ) - A new Marquette Law School poll gives Tom Barrett a 17 point lead over Kathleen Falk for next Tuesday's Democratic primary in the governor's recall election.
705 Wisconsinites were interviewed by phone from last Thursday through Sunday – and 38 percent of them favored Milwaukee Mayor Barrett to 21 percent for Falk, the former Dane County executive.
19-percent were undecided, over twice as many as those supporting the third-place Democrat, Doug La Follette with 8 percent. Kathleen Vinehout had 6 percent.
The poll also revealed a dead heat between Barrett and Republican Governor Scott Walker in the general recall election 5 weeks from Tuesday.
Among likely voters, Barrett led Walker 48-47. And among all registered voters in the poll, Walker led Barrett 47-46.
Poll director Charles Franklin said it's as close of a tie as possible. In both instances, Falk was about 6 points behind Walker. That's beyond the poll's error margin of 4 percent either way.
Tuesday's primary also includes fake Democrats which guarantee primaries for every race.
Republicans did it so they wouldn't risk an incumbent senator losing due to an expected high turnout for the Democratic gubernatorial primary. But 57 percent in the poll opposed the strategy.
46 percent said jobs are the top factor in choosing a candidate. 58 percent said they talked about politics with their families and friends at least once a week – but 29 percent said they stopped talking to somebody about politics due to disagreements about the recall or Governor Walker.