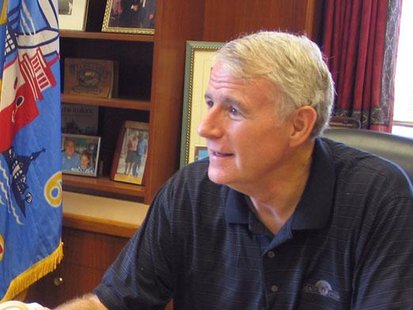 MILWAUKEE, Wis. (WSAU0 – Democrat Tom Barrett remains undecided on whether he'll run for governor again in the expected Walker recall election.
But the Journal Sentinel says the Milwaukee mayor has put out a fund-raising letter that slams Republican Scott Walker – who won the governor's office by defeating Barrett in November of 2010.
Technically, Barrett's fund-raising request is for his re-election bid for Milwaukee mayor in 13 days. But he only has token opposition – and as the Journal Sentinel's Dan Bice points out, Barrett can transfer money from his mayoral campaign to a state account for governor.
Bice said the fund-raising letter accuses Walker of putting quote, "special interests ahead of the common interest." Barrett also accused the governor of dividing the state, scaling back schools, granting tax breaks to the wealthy, and balancing the budget quote, "on the backs of foreclosure victims all around the state."
Barrett has previously condemned the use of $25 millon in lawsuit settlement money from five big lenders to help balance the state budget. He said the funding should go instead to thousands of Milwaukeeans who lost their homes due to the lending practices that resulted in the lawsuit.
If Barrett runs for governor, he would join at least three Democrats who are now in a primary race – former Dane County Executive Kathleen Falk, Secretary-of-State Doug La Follette, and Senate Democrat Kathleen Vinehout of Alma.